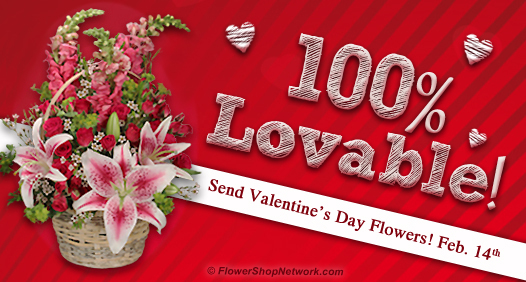 If you're reading this and have not decided on a Valentine's Day gift for your sweetie — what are you waiting for? Flowers are the quintessential Valentine's Day gift, and have been for generations. Trust me, you don't want your lady to be the only one at the office without flowers.
Why wait when you can be ahead of the game? Here's what to do:
Step 1: Go directly to your local florist. If you don't know yours, use Flower Shop Network's handy local florist finder** to find a florist in your city. (**FSN verifies all florists in our directory are real local florists.)
Step 2: Either call your florist directly or shop their official website for more of a visual selection. You might also stop by the store for a more hands-on approach. Tell your florist about your sweetheart — her favorite colors, flowers and even styles — they can create something one-of-a-kind for your love.
Step 3: Once you've ordered your Valentine's Day flowers, you can kick back and relax. Your local florist will take care of all the rest, from presentation to delivery, you can rest assured your sweetheart's Day of Love will be a great one.
If you do want to take it a step further, however, consider making reservations at your favorite restaurant or getting her jewelry. Whatever romance you choose, flowers are the perfect way to start.
---
5 Houseplants with Heart



Valentine's Day is almost upon us. Most people are satisfied with traditional gifts. However.. there are a few among us who are not so swayed by sweetness. If your girl is just not the 'romance type', or your hubby thinks "flowers are for girls" then this suggestion is for you!
There's nothing like flowers and plants on Valentines Day. They bring a life and energy with them you won't get from any other gift. If your Boo says boo to a bouquet, why not give the gift of green via a lush houseplant that is full of heart — heart-shaped leaves that is!
Continue reading to see all heart-shaped suggestions…

---
Facebook Friday: January Favorites



We recently started a Friday recap of all the wonderful posts and pictures from active florists on our Facebook Page. It's been so much fun seeing all the completely different designs every day. We hope you enjoy these favorites and continue through to see more from each Friday this month:
| | | |
| --- | --- | --- |
| Swannanoa Flower Shop, Swannanoa NC | TCU Florist, Fort Worth TX | Yellow Rose Florist, Olive Branch MS |
| Crossroads Florist, Mahwah NJ | Buds & Blossoms, Edgewood MD | The Petal Patch, McFarland WI |
See all Facebook Recap pictures in these posts:
---
What Does a Mixed Bouquet Say on Valentine's Day?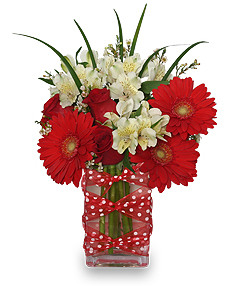 When we think of sending flowers on Valentine's Day, roses seem to be the only flower to come to mind. Trust me guys, there are A LOT more options than just roses and baby's breath. It's kind of like sending fruit cake during the holidays, you're grandma might love it, but your girlfriend wants something a little more *bling bling*!
Now, don't get me wrong, of course you can send roses on Valentine's Day. What I'm saying is, take your time and choose something special for your honey. Don't just mindlessly order a dozen roses because that is the traditional thing to do. If roses are your girl's favorite, then by all means order them!
Choose her flower favorites this Valentine's Day, instead of red roses. Valentine's Day colors don't HAVE to be red and pink! Choose colors extra special to YOUR Valentine. If your girl loves purple, send a mixed bouquet of many shades of purple flowers! Maybe she loves classy white? Send a bouquet of white flowers; it's that easy! The key to sending the perfect Valentine's Day gift is to make it personal!
Need more advice? See How To Choose The Right Flowers For Your Sweetie
---
Need Ideas For February Birthdays?
For a February birthday, flowers are especially sweet. If they didn't receive any on Valentine's (*sadface*) or even if they did, it will remind them spring is right around the corner!
So how do you send flowers for a February birthday? Purple Purple Purple!

The birthstone for February is also purple, the amethyst. Flowers in these color schemes include: roses, tulips, statice, stock, carnations, and many more.
Continue reading for even more great February Birthday Ideas!
---
FLOWER CARE TIP
If your flowers came in
plastic, remove this as soon as possible
.
Avoid placing flower arrangements in
windowsills and other areas with
full sun
where flowers can wilt due to overheating.
More Flower Care Tips
WE'RE SOCIAL!








Love flowers? Follow us on the above Social Networks! We are always sharing the latest articles from our Bloomin' Blog, as well as the most fascinating news on the net!
You Might Also Like



Even Florists Need Inspiration
So, why all the talk about inspiration, motivation and re-energizing your life? Recently, all Flower Shop Network employees had the great opportunity to meet Jim Morack, as he shared his wonderful insights about life.
The Colors of Spring
Spring is just around the corner and I don't know about you, but I can't wait! Catch spring fever with these great spring flower inspirations based on color.
4 Great Tips For Last Minute Valentines Day Flowers
While ordering early is ALWAYS best when ordering flowers during such a busy holiday, it's not always convenient. Now that it's getting closer, we want to make it EASY for you to get your flowers ordered and keep your sweetie happy!
Need more inspiration? Check out our sister site, Wedding & Party Network's weekly blog — Inspirational Fridays!
Help make Flower Shop Network's monthly newsletter even better! Got questions? Have an idea for a story? With your help, we can make the FSN newsletter just what you want and need. You can drop us a note in the comment section on the blog or email us at social@flowershopnetwork.com. We can't wait to hear from you!