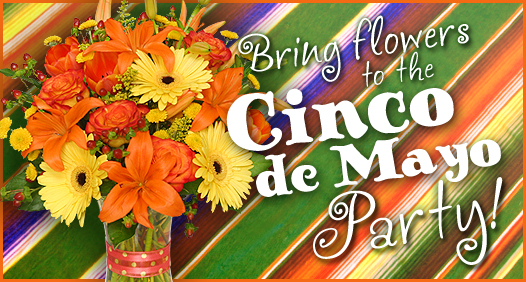 Cinco de Mayo falls on Saturday this year and is a GREAT excuse to have a FIESTA!
Are you tired of the same ol' get-togethers every weekend? Break out the sombreros, this Saturday will be different – a Cinco de Mayo party is easy!
Cinco de Mayo Decor
Cinco de Mayo decor is all about bright, bold COLOR! While Mexico's colors are red, white and green, their culture is know for it's use of vivid colors.
Choose colorful tablecloths, plates, cups and napkins.
Create simple garlands of flags to hang around the room, or an outside canopy.
Don't forget the flowers! Use bright and cheery Cinco de Mayo flowers as the centerpiece to your buffet table, or anywhere else that needs a splash of COLOR!
Flowers make great hostess gifts!